who dat? contest.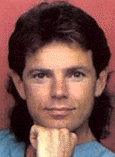 (yo stee. i know
who dat?)
---

last game: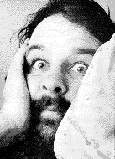 director peter jackson
first correct answer:
---
north american free trade agreement





Suck down that Robatussin and pop those last Dexatrim -- it's time once again for Stee Takes A Look At The Trades.

Beatles 'dot.com Together' After 30 Years. Yeah, the Beatles are launching their official website, which Abbey Road spokesman Geoff Baker dubbed, "Dot.Com Together. The Beatles are back at Abbey Road -- in cyberspace." How about you Dot.kiss my ass Geoff Baker. Stupid fucker.

Sales or Not, 98 Degrees Is in it for the Long Haul. Loser boy band 98 Degrees are putting the spin on as their new album fails to sell. "It's become a faddy thing to sell a million-plus records your first week," says Nick Lachey, 26, who's made separate headlines due to his high-profile romance with teen singer Jessica Simpson. Yeah, man. Selling a whole bunch of albums is just like going along with the crowd. Only sheep boy bands try to sell a lot of records. "I think that we've never been the same type of group as Backstreet or 'N Sync,'' Lachey says. "We've been more about a vocal thing. Sometimes it's convenient for a critic or the press to lump us all into one category; it makes it all easier. But if you look a little deeper, everything is different." A few minutes later Lachey ran from the press conference crying when the reporters and photographers were unable to stop laughing.

Harrison Ford, Wife of 17 Years, Announce Separation. Actor Harrison Ford has separated from his wife of 17 years, screenwriter Melissa Mathison, but their split has nothing to do with ``false and inaccurate'' tabloid reports linking him romantically to actress Lara Flynn Boyle, his publicist said on Wednesday. Yes, the fact that he's fucking bag o'bones Boyle is totally separate from the split. Man, she needs to get her ass kicked. Seriously. Camryn Manheim should body-slam her for the good of the wives of geriatric actors everywhere.

'Richards' Producer Exits Show. After two airings, NBC's ``Michael Richards Show'' has lost one of its executive producers in a spat over creative differences, according to insiders familiar with the situation. Not a good sign, folks. I'm just saying. It's a little sad because I remember that the original mandidate was that this "character" was going to be totally different from Kramer, and now, judging from the commercials, it's just Kramer with a different name. Still bumbling. Still falling down. Still muttering. (Still not watching.)

Sandler Targeting Next Picture. Adam Sandler's zeroing is in talks to join a modestly budgeted New Line comedy to be directed by Paul Thomas Anderson from a script the ''Boogie Nights'' director wrote especially for Sandler and Oscar-nominated actress Emily Watson. I heard about this a few months ago, and I still don't believe it. Little Nicky looks like one of the worst things ever put to celluloid, and PTA, who I respect a lot, wrote a movie especially for Adam Sandler? Could this be anything but a business move for Anderson? I mean, did he lose a bet or something?

Grammer Ordered to Pay $2 Million. ``Frasier'' star Kelsey Grammer has been ordered to pay $2,034,391 to his former talent agent in a longstanding spat over commissions. Personally I think they should pay him for letting him do Down Periscope, but that's just me.

Cronenberg eyes ``Basic 2''. Canadian filmmaker David Cronenberg (``Crash'') is in advanced negotiations to direct ``Basic Instinct 2,'' in which Sharon Stone will reprise her role as the wealthy temptress. A mid-February start date is expected. Hee. After making a couple shitty independent movies the Canadian weirdo is going to make a shitty studio picture. And in related news, Atom Egoyan is doing "Monkey Trouble 2" for Paramount.



---
Currently at Three Way Action:

Crushes. We all have them.

Early heated discussion about the Oscars.

People are talking about, well, cunnilingus?

The Harrison Ford split.

The diarist.net awards always pisses people off.

Simpons nerds unite!

Why exactly don't girls fancy nice guys anyway?
---
The Anna Nicole Smith Happy Song Corner





When a man can take a stand, and wash his hands of his scams, and watch his woman stand unafraid, and her fight to get paid. Help her get her medicines made. Let her step on out of the shade. And I will call him super solid. It takes a strong man to stand by a strong woman. It's love sex. It's the soul vexed. It's the earth next. We need Respect. Can we love outside of the clan? Where's the sister in brotherman? Back to back, divided we stand. Can we put some love in the land? I will call him supersolid. Conquering, stealing, wheeling, and dealing. Tell me, is this planet healing? When a man knows where he came from, he can't tell me. I am shameful, and I will call him supersolid. He can stop trying to get even. He will know he's here for a reason. To stand beside his woman in peace. She's got the way to release him... speaking of which. I'm stealing one of these hospital bathrobes, y'all. They are so soft. What? I'm worth half a billion dollars? That's right. Oh. I see. OK. I'll steal some for all of you too, alright?

home back index next howl