who dat? contest.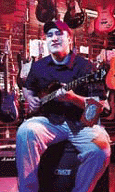 (yo stee. i know
who dat?)
---

last game: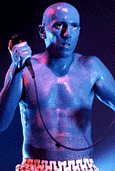 singer maynard james keenan. tool. a perfect circle.
(not, as many guessed, a member of Blue Man Group.)

first correct answer:
---
left column want post-it notes for christmas. and candy. and a finger monkey maybe too. not too much to ask.

who we choose





"There's never going to be anybody else, and it's always going to be him," says Jolie. (I wonder if Billy Bob's four other wives thought the same thing.)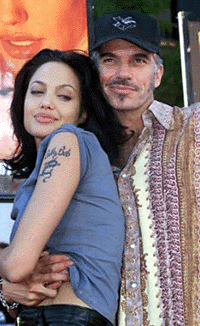 I don't know. Maybe they're perfect for each other. Maybe they have something incredible. Maybe they sit up late every night, talking and laughing and holding each other. Teasing, but in a very loving way. Drinking and comparing tattoos and scars and trading stories. Talking of past lovers, like Jonny Lee Miller and Laura Dern. Do they talk bad of them? Do people always talk bad of their exes? They don't have to. But maybe they do. Maybe Jonny Lee Miller's accent drove Angelina crazy after a while. Maybe her brother could tell he was a rat. Maybe the fact that Laura Dern was still somehow in love with Goldblum made Billy Bob insane. Maybe he on occasion went back and slept with that Petra woman, just for old times' sake, despite the accusations of abuse. Maybe they sit at home and marvel at each other. Maybe they lick each other's skin as they pass, just to have that taste in their mouths. Maybe they begin to make each other dinner, and end up making love against the hot stove, letting the water boil over. Maybe they eat in bed, feeding each other. Maybe they find themselves just staring at each other, wondering how they got so fucking lucky. Wishing they could swallow each other whole.
Maybe they make love to each other like they're drowning. Maybe they kiss and it is better than all the lollipops of their childhood. Maybe they kiss until their lips are swollen and their tongues are raw. Maybe they emit wild sounds of desperation as they merely grasp for each other. A sort of violence in the anticipation of drawing together. Maybe they slide inside each other and barely move - movement unnecessary for now. Movement too much for now. Just hold that right there. Maybe they just kiss and try not to explode. Maybe they never want to move. Ever. Want to die here. Want to die right here with you. Maybe they don't think they can bear it.
Maybe when they are apart, they feel both desperately sad, as if they cannot breathe in the absence of that person, and more confident and happy than they have ever been, knowing that they are truly loved. Not just settling. Not just with the person they're with. But they have found someone. They have that person. The puzzle piece that was missing, hidden under the sofa. Not just the one that pretty much fit but if you looked closely you could see the color of sky was actually quite different in the two. Maybe on a cellular level, they are the very right person for each other. Their smells match. Their eye coloring fits together. They have the same likes and dislikes. They both love the sound of the accordion despite themselves, and hate salt water taffy. Love fries with ranch dressing. Hate toast. Maybe they just work. Maybe they just fucking work in a way they cannot deny. In a way we can never understand.
Maybe Angelina and Billy Bob are really going to be forever. Maybe they are the real thing...
...Yeah, I doubt it too.
(But maybe we'll all find that, someday. You think?)


---
The Larry King Happy Song Corner





Good times for a change. See, the luck I've had. Can make a good man turn bad. So please please please. Let me, let me, let me. Let me get what I want. This time. Haven't had a dream in a long time. See, the life I've had. Can make a good man bad. So for once in my life. Let me get what I want. Lord knows, it would be the first time. Lord knows, it would be the first time... speaking of which. So that rat bastard fink Charlie Rose - my former friend/drinking buddy - lands the big Bill Gates interview. Gets to go eat burgers with Bill and tour his old neighborhood and ask him about money and women and the Microsoft case. Not that I understand "computers" per se, or "women" for that matter, but it would have been nice to have been asked. Bill Gates: that was the kind of dream I haven't had in a long time. Not since that one doozy of a dream back in 1975 involving Sissy Spacek, a glue sick, and a glass of Bosco. Yowza!


home back index next howl