who dat? contest.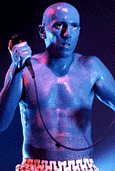 (yo stee. i know
who dat?)
---

last game:

none.

---
left column repeat patterns way too much. like forget put milk in macaroni. every time. you think left column would learn lesson. no. or not to go to the house of the bad girls with no money. stupid. it time to stop. really.

some folks call it a sling trade...





Yeah, bitches. Stee looks at the trades. Get some.

Bob Hope Continues to Improve, Hospital Says. Hope continued to improve on Monday, enjoying a hearty breakfast of eggs and then munching on candy, a hospital spokeswoman said. I'm glad to hear Bob Hope is doing well. I was afraid we'd be without his next Kmart commercial (as nearly as creepy a sight as the two Superbowl ads this year featuring Ali and Christopher Reeve. Yikes!). But seriously, when stars are in the hospital, they are always doing "fine". Spin, my friends. As a message to his fans, Bob Hope reportedly told his doctor, "tell them I'm winning". My guess is he actually said, "for godsakes let me die already", and the doctor just embellished a little.

Cruise's 'MI-2' Has Slim Victory Over 'Big Momma'. So Martin proves he has box office muscle with a surprising $25.6 million opening for Big Momma's House. From all accounts (both public and private), I hear Martin is insane. So really, this can be seen as a victory for mental illness. As MI:2's tally can be seen as a victory for Scientology. Which, after Battlefield Earth, needed one. Or Big Momma's House can be seen as proof that if you put a billboard or poster on literally every single corner in LA, people are bound to show up. They have little choice.

Lloyd Webber Turns to Belfast for Latest Musical. The composer of suck is turning to Belfast for inspiration for his next musical - to be about a soccer team in 1969. Imagine my disappointment when I actually read the article - from the title I thought he was actually going to Belfast, which would increase his chances of being killed by a pipe bomb, which would be a tragedy, sure, but would also mean we would never have to sit through other one of his plays.

Son of Actor Douglas Enters Plea in NY Drug Charge. Michael's son Cameron was arrested for carrying cocaine in his pocket. Some of the 20 year-old's other troubles include: In November 1996, Cameron Douglas was put on three years probation after allegedly driving drunk, causing a three-car pileup in Santa Barbara, California in which a Secret Service agent was dragged behind his car. In 1997, Douglas also served a year in a drug rehabilitation center on the orders of a judge. Look, I like Michael Douglas as an actor very much, but, well: hee. I have no sympathy for the sons and daughters of the rich and famous. Call me a bad person, but I love to see them fall. I'm just waiting for Kate Hudson to start robbing banks, Scott Caan to pick up a male prostitute, or the Hanks kid to get kicked out of Bar Marmont for smoking crack in the bathroom. I don't know why that would make me happy, but it would. Color Me Badd.

Country Singers Accused in Horse Stunt. Country music star Tim McGraw, singer Kenny Chesney and a manager were arrested and detained for four hours after an incident in which Chesney allegedly rode off on a sheriff's horse and all three scuffled with police, officials said Sunday. The three went on that night to fight bouncer Patrick Swayze at the local Roadhouse, run moonshine over state lines, and have sex with a cow.

Thomas Hooks Three Indie Film Roles. Henry Thomas, who can next be seen in Billy Bob Thornton's "All The Pretty Horses," has signed on to three indie pics, all slated to go this summer. Wow. The kids from E.T. are all doing so well for themselves, with Thomas and Drew and... oops. Well, Robert MacNaughton was great in 1983's I Am The Cheese.

Michael Douglas Helps Cops Catch Suspects. Actor Michael Douglas helped Cincinnati police catch two youths suspected of crashing a stolen car in a high-crime area where he was on location filming the movie "Traffic," authorities said on Saturday. Police Lt. Steve Wilger told reporters that the Oscar-winning Hollywood star pointed to the alley where the suspects had fled after the accident. But then when Douglas realized it was actually his son Cameron in the car, he quickly pointed in the opposite direction.

Winners announced at MTV Movie Awards. The show taped, but as it won't air until Thursday, I won't ruin it for you (assuming you are holding your breath to see how many awards Cruel Intentions picks up). However, this is a convenient place to mention that Pamie and I had two celeb sightings that will make many jealous. First, we saw Kevin Spacey at an empty little dive bar where we were drinking. He was hanging out with a guy who carried a very creepy doll's head, for some reason. And I won't tell you to which gender the people Spacey was rapping with extensively belong. Although he did seemingly go home alone. Next, we ate Chinese food a few tables from Sarah Michelle Gellar. I have no feeling about her, but it was a lot of fun watching little Prada-dressed LA high-school boppers freaking out, calling all their friends on their cell phones. Also, we enjoyed speculating how jealous many of you would be of us seeing Buffy - two people who have never even seen the show.

Reward Robbed From Man Who Found Oscar Statuettes. Apparently, the dude had close to $40,000 stolen from his apartment recently. I have to say I'm a bit skeptical. First of all, I'd heard the guy was homeless. Secondly, he is decribed as a "scrap metal dealer" - I thought he collected cans from dumpsters? Does that mean we should call the squeegee men, "automotive sightline engineers", and the dudes who sell grapefruits on the median, "citrus tycoons"? Forgive me, I'm just a little angry at "scrap metal dealers" consider how often my own local dealer, Homeless Mexican Bottle Man, wakes me up by crushing cans outside my window at 6am. I have no fucking patience left for this guy.

Finally...

I'm very happy to have won the two diarist.net awards. (But the aforementioned Pamie obviously deserves half of the Collaboration One.) But really, thank you very much. Rock.

---
The Larry King Happy Song Corner





Everytime I see your face I get all wet between my legs. Everytime you pass me by, I heave a sigh of pain. Everytime I see your face I think of things unpure, unchaste. I want to fuck you like a dog. I'll take you home and make you like it. Everything you ever wanted. Everything you ever thought of. Is everything I'll do to you. I'll fuck you and your minions, too. Your face reminds me of a flower. Kind of like you're underwater. Hair's too long and in your eyes. Your lips a perfect "suck me" size. You act like you're fourteen years old. Everything you say is so obnoxious, funny, true and mean. I want to be your blowjob queen. You're probably shy and introspective. That's not part of my objective. I just want your fresh, young jimmy. Cramming, slamming, ramming in me. Everytime I see your face I think of things unpure, unchaste. I want to fuck you like a dog. I'll take you home and make you like it. Everything you ever wanted. Everything you ever thought of. Is everything I'll do to you. I'll fuck you till your dick is blue... speaking of which. When I was seven or so me and Cynthia Franciosa, this little dago broad from E. 177th, were sitting on my stoop playing jacks or some such childhood nonsense when we heard a noise. It was two dogs I recognized from the neighborhood going at it. Humping! That's right. Cynthia didn't know what they were doing and thought they were fighting. So before I could stop the little minx, she ran over and tried to pull the amorous pooches apart. Well, at that same time, Mrs. Buttleman from upstairs poured a pail of water out her window to separate them. Cynthia got the dogs apart, but took the full spray of water all over her square little head. Man, if Mrs. Buttleman hadn't cooled Cynthia off, ol' Larry was in there. I can tell these things. Damn you Mrs. Buttleman! Damn you and your pail!


home back index next howl