big heads and good films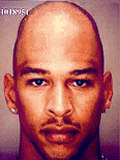 It's a horrible story, Panther Rae Caruth had his pregnant girlfriend murdered and then went on the run. Was found hiding in the trunk of his car outside a motel. His mom may be charged with trying to help him stay free. It's very sad and all but…

Damn, look at homeboy's head!!! It's huge!!! I swear I did not doctor this photo. It's like he has an extra head up on top of his head. He should have kept the hair.
Meanwhile…
…So a few days ago I told you all to go to vitamins.com and get their 25 dollar off with free delivery deal. A reader happily says:
…you still ROCK in the most ultimate of ways. why, you ask? well, i went to your vitamins.com thing -- and well, even though I don't take or like or have any interest in vitamins, I realized they sell bath & body stuff! and a girl can *never* have enough cool bath and body stuff. i ordered three different orders under different family members' names and different cc#'s, each a tad over $25. one of my orders was for things totalling $25.08!! anyway, i ended up getting $75 worth of stuff for less than $2.00. i am the QUEEN!
So when January runs around and your shit is out of Shampoo, Vitamin R, and you just dropped your last loofa in the toilet by mistake, don't come crying to me. I'm just saying.
Elsewhere…
…The New York Film Critics Circle came out with their best of list for 1999. It's a fucking wacky list. I'm not too down with their picks this year. But anyhoo:
BEST PICTURE: Topsy-Turvy.
BEST ACTOR: Richard Farnsworth. The Straight Story.
BEST ACTRESS: Hilary Swank. Boys Don't Cry.
BEST SUPPORTING ACTOR: John Malkovich. Being John Malkovich.
BEST SUPPORTING ACTRESS: Catherine Keener. Being John Malkovich.
BEST DIRECTOR: Mike Leigh. Topsy-Turvy.
BEST SCREENPLAY: Election. Alexander Payne & Jim Taylor.
BEST FOREIGN FILM: All About My Mother.
BEST DOCUMENTARY: The Buena Vista Social Club.
BEST FIRST FILM: Being John Malkovich. Spike Jonze, director.
BEST ANIMATED FILM: South Park: Bigger, Longer, Uncut.
Also the whatever International Press Academy came out with their nominees for their "Golden Satellite Awards":
BEST PICTURE DRAMA: American Beauty, The Talented Mr. Ripley, Magnolia, The Insider, Boys Don't Cry, Snow Falling on Ethan Hawke.
BEST PICTURE COMEDY: Dick, Notting Hill, Being John Malkovich, Election, An Ideal Husband, Bowfinger.
BEST ACTOR DRAMA: Al Pacino, Russell Crowe, Denzel Washington, Terence Stamp, Richard Farnsworth, Kevin Spacey. (you should know for which films, people)
BEST ACTOR COMEDY: Rupert Everett, Jim Carrey, Sean Penn, Steve Zahn (Happy, Texas), Johnny Depp, Philip Seymour Hoffman (Flawless). (OK, if you don't know for which movies, ask me)
BEST ACTRESS DRAMA: Sigourney Weaver (Map of the World), Hilary Swank, Elaine Cassidy (Felicia's Journey), Youki Kudoh (Snow Falling…), Annette Bening, Nicole Kidman (Ass Wide Shut).
BEST ACTRESS COMEDY: Julia Roberts (Notting Hill), Reese Witherspoon, Frances O'Connor (Mansfield Park), Janet McTeer (Since when is Tumbleweeds a comedy?), Julianne Moore (An Ideal Husband), Cecilia Roth (All About My Mother).
BEST DIRECTOR: Paul Thomas Anderson (Magnolia), Scott Hicks (Snow…), Sam Mendes, Michael Mann (The Insider), Kimberly Peirce (Boys Don't Cry), Anthony Minghella.
They also did Foreign, Documentary, and Animated, but I'm off to go see Toy Story 2 so no more time.
Finally…
…Early warning: I'll be away from the journal from 12/22 to 12/29. Don't cry too much.
---
The Larry King Happy Song Corner






Danger in the game when the stakes are high. Branded, my heart was branded while my senses stood by. I'll never find another girl like you. For happy endings it takes two. We're fire and ice, the dream won't come true. Sara, Sara, storms are brewin' in your eyes. Sara, Sara, no time is a good time, oh. Sara, Sara, storms are brewin' in your eyes. Sara, Sara, no time is a good time for goodbyes. ('Cos Sara) Loved me like no one has ever loved me before. (And Sara) Hurt me, no one could ever hurt me more. (And Sara) Sara, nobody loved me anymore… speaking of which. I once tried to brew my own beer. But when I had Charlie Rose over to taste it he got sick and puked all over my wife's quilting loom.