who dat? contest.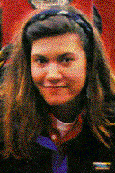 (yo stee. i know
who dat?)
---

last game: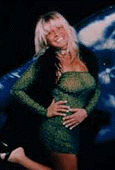 new york cable-access soft-core porn host, robin byrd.
you guys are sluts.

first correct answer:
---
left column want ladies to all be happy and never sad, unless mean to left column then you pretty bad ladies cry cry cry, you.

why not take the A trade

Sit back motherfuckers. Pop some cat tranq and take off your pants. It's time for: Stee looks at the trades.
'Sopranos' Actress Nancy Marchand Dead at 71. Yo, this just sucks. I didn't get to watch many episodes of the show (as I don't have HBO), but what I did see - man. Was she good. A very original portrayal. Too bad.
Damon Likely to Assume 'Identity'. In "The Bourne Indentity," Damon will play a man who washes up on an island, near death from gunshot wounds. He has no recollection of what happened, or even who he is. But he uses the sun reflecting off his massive, blindly-white choppers to singal a plane; he is quickly rescued.
NBC has picked up the broadcast rights to DreamWorks' "Chicken Run" for $15 million. In these modern times, with cable and VCR's and DVD and pay per-view, I've long felt it was bizarre how much networks pay for the rights to these movies, but just last night I found myself sucked into an ABC showing of The Truth About Cats and Dogs, a movie I would never pay to see again. Either this says something about the sucking-in power of television, or the weakness of us humans when put in front of pretty moving lights and colors, or both.
Grammer's 'Macbeth' Doth Bite Broadway Dust. Kelsey Grammer's vanity production of the Scottish play will close after 13 performances. Ouch. While I don't like the way critics can ruin a show in New York, and while I don't necessarily think being a sitcom star for years should limit your ability to do other kind of work, I think Grammer has made a parody of himself over the years. With the coke and the slutty women and the car crashes, he's shown himself to be a big goober. Perhaps this will serve as a wake-up call that you can't rest on natural comic timing for years and years, and still refer to yourself as a "Shakespearean-trained actor" (whatever that really means).
NYC Radio Host Don Imus Injured in Fall From Horse. Hee hee.
Veteran sitcom star Tony Danza is making a dramatic career move, joining the cast of CBS legal series "Family Law". OK, now I have 7 reasons not to watch that show. Thank you.
Lisa Rinna ("Melrose Place") will join Charlie Sheen, Denise Richards and Rosanna Arquette this summer in the picture "Good Advice." Rinna most recently appeared in the Lifetime made-for-TV movie "Another Woman's Husband". The mention of Lisa Rinna in my trades wrap-up means that it's a slow Hollywood news day. Likewise with the mention of Charlie Sheen. Or Denise Richards. Or Rosanna Arquette. (Any Arquette, actually.) The mention of all four at once, however, means we have officially hit bottom. Everybody get off in an orderly fashion. No pushing. Thank you.


---
The Larry King Happy Song Corner





Have to get back, have to get back the base. I need to talk to somebody, I can trust. Too many cooks, are tryin' to spoil the broth. I can't feel it in my throat, that's all she wrote. I'm not feeling it no more, I'm not feeling it anymore. Not feelin' it no more, not feelin' it anymore. When I was high at the party, everything looked good. I was seein' through rose coloured glasses. Not seein' the wood for the trees. I started out in normal operation. But I just ended up in doubt. All my drinking buddies, they locked me out. I'm not feelin' it no more, I'm not feelin' it anymore. No feelin' it no more, I'm tryin' to give you the score. You see me up there baby, I'm on the screen. But I know better now, it's so unreal. If this is success, then something's awful wrong. `Cause I bought the dream and I had to play along. I'm not feelin' it no more, I'm not feelin' it anymore. I'm tryin' to give you the score, I'm not feelin' it no more... speaking of which. I'm not feeling it anymore. Then again, I'm not really feeling much of anything anymore in that region... not since the fall.


home back index next howl