who dat? contest.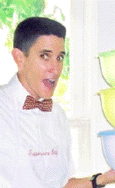 (yo stee. i know
who dat?)
---

last game: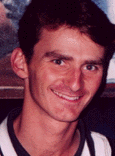 u.s. figure skater
todd eldredge
first correct answer:
---
left column not sure anyone understand anymore.

big brother and weezer

My last night was pretty boring. I watched the Big Brother program, enjoying the fact that the two oldest people are just about the two most likable. I very much hope George wins. The one-legged dude likes him a lot, and I think will ultimately help him if he can. I'm usually very pro-young, but in this case I think most of the younger people are fucking idiots and/or annoying. I actually had a meeting with a director last week and this middle-aged woman was saying how she has not a nostalgic bone in her body, and cheers every time the old are forced to make way for the new, even though that has and will include her. For example, she loves to see old buildings destroyed. I'm not nearly that gung-ho, but I do feel strongly that those who resist change and evolutionary and technological upgrades, for instance, are not only being short-sighted, but their protests are for naught simply because you can't stop the tides, baby. You just can't. Those who decry the use of cell phones or computers are just as bad as those who argued against the evils of the pencil, or for that matter, fire. I have no point here, other than to say I find myself, then, surprised that I'm rooting for George on Big Brother or the old dude (Rudy?) on the Survivor. I guess compassion must be mixed into the above mini-rant somewhere. Just don't tell anyone.
The only other interesting thing I can think to talk about is Weezer. I babbled about a month ago about going to a secret Weezer show in Silverlake. So, they announced two more dates in LA. The first one was sold out and the second one, announced later, was going on sale the Saturday before last. A friend waited in line at 7am, but couldn't even get tickets. They sold out in about 30 seconds, that's how tiny the venue is (about 200 people, again). Anyway, so I'm all pissed off, but then I get an email from a friend. She not only was able to buy a ticket online that Saturday morning, but she bought one for me and is flying out for it. Yeah, that's Pamie. So she's coming out this weekend to take me to the big Weezer show. I feel quite bad that my friends, especially the one who got up so early, can't go. I guess the lesson here is, don't try to go to the Ticketmaster booths - shop online. The other lesson is, be friends with Pamela.
Finally...
...My latest Road Rules recap is up. There's some freaky-deaky going on in the Shasta. 'Bout time.


---
The Larry King Happy Song Corner





So you're with her, and not with me. I hope she's sweet, and so pretty. I hear she cooks delightfully. A little angel beside you. So you're with her, and not with me. Oh how lucky one man can be. I hear your house is smart and clean. Oh how lovely with your homecoming queen. Oh how lovely it must be. When you see her sweet smile baby, don't think of me. When she lays in your warm arms, don't think of me. So you're with her, and not with me. I know she spreads sweet honey. In fact your best friend - I heard he spent last night with her. Now how do you feel? When you see her sweet smile baby, don't think of me. When she lays in your warm arms, don't think of me. And it's too late and it's too bad, don't think of me. Oh it's too late and it's too bad, don't think of me. Does it bother you now all the mess I made? Does it bother you now the clothes you told me not to wear? Does it bother you now all the angry games we played? Does it bother you now when I'm not there? When you see her sweet smile baby, don't think of me. When she lays in your warm arms, don't think of me. And it's too late and it's too bad, don't think of me. Oh it's too late, oh it's too bad, don't think of me... speaking of which. So you're with him, and not with me? That's fine. No skin off my dying nose. I have bottle of Four Roses, a bag of Funyons, and an Undressed on MTV.

home back index next howl