who dat? contest.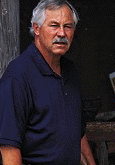 hint: sports figure.
(yo stee. i know
who dat?)
---

last game:

shelia e.
first correct answer:
---
i'm slim tradey

Stee is nervous because his plays open tonight. Wish me luck. And since if gone uncurbed I'd just babble for pages about the shows, the final dress of which I did end up seeing last night (they look good), I'm gonna switch topics... So, bitches. Turn on the ether, take out the ball-gag, and pour a tumbler of Hennessey, because it's time once again for Stee Takes A Look At The Trades.
'McDonna' Wedding May Feed Scottish Tourism Boom. Blah blah blah. You know, around this time each year I start to really think I'm going to climb a clock tower if I have to sit through one more terrible Christmas commercial... with Santa on a fucking cell phone with the midgets as elves or whatever. But. Suddenly, I'd rather be on the losing end of a big gay orgy with all the elves, the reindeer, and Santa himself if I could somehow go the next two weeks without hearing another fucking word about Madonna and Guy Richie's wedding. I mean, they've been reduced to interviewing the organist at their Scottish church, that's how desperate someone obviously is for news about this shit. On Donner. On Blitzen...
Charges Formally Lodged Against Robert Downey Jr. I love that he's going to fight this one, using the old consent to search thing. I love that we're going to get days of him in court and legal maneuvering, all to keep him from going back to jail, where I imagine he made a few "friends" who would love to see him again. My sympathy ran out a week or so ago, unexpectedly. Maybe it was the Wonder Woman costume thing. Do all the blow you want and wave guns around, but really, don't blaspheme my childhood memories, okay?
Kristin Scott Thomas Finds Time for 'Hours'. KST is set to reprise a role previously played by Ingrid Bergman in, "Twenty-Four Hours of a Woman's Life." You know, it's hard having three talented and beautiful girlfriends. I always end up ignoring one of them. And with all the attention both Cate and Julianna have been requiring lately, I've totally been ignoring Kristin. I'm sorry, baby. You know I love you.
Man Pleads Innocent to Threatening Moon Unit Zappa. Um... if you're going to go so far as to try to kill a celebrity, don't you go for someone a little more high profile? I mean, if it's infamy you're after, don't you have a better chance getting it if you take out Tom Cruise as opposed to, say, Charo?
'The Simpsons'-Based Monopoly Game Passes Go. You can figure out what this means: yes, they're developing a Simpsons Monopoly game with the Power Plant and Moe's and etc. And while I know this news is going to make a huge number of you insanely happy, this will probably make the same number very mad: The Simpsons annoys me. Just wait. Wait! I think it is indeed one of the funniest shows ever. I watched this past Sunday and laughed my fucking ass off. Two minutes after the great meta-closing of that particular episode, I was still laughing. But. I don't go out of my way to watch either the reruns or the normal run. Why? It's you people. It's your fault. All the raving Simpsons fans drive me fucking batshit. I have certain friends that will seriously have a Simpsons quote for everything. We'll play pool, a quote. I'll spill a beer, a quote. I'll talk about my father's death, a quote. And get two of them together, and forget it. Seriously. This last week when Ralph got a new line, I was very happy. Why? So I maybe don't have to hear, "I bent my Wookie" or "Sleep is where I'm a Viking" quite so much. And my Simpsons freaks are some of my favorite people. I just can't do it anymore. They ruin my enjoyment of it. That's why I seriously try to cool it with The Onion tales. I saw the look on my mom's face after ten minutes of, "Oh, and there was this article about Mother Theresa..." and it was one of sheer disappointment. Don't earn that from me people: cool it with the fucking Simpsons talk. Watch. Enjoy. Worship. I don't care. Just don't quote the show around me. And then maybe the next time I come over, I'll play the Monopoly game with you. And yes, I'll let you be Homer.
---
My pick for topic of the day at Three Way Action:

Just for all you dissed
Simpsons fans.
---
The Robert Downey Jr. Happy Song Corner





You're the whisper of a summer breeze. You're the kiss that puts my soul at ease. What I'm saying is I'm in to you. Here's my story, and the story goes: You give love, you get love. And more than heaven knows. You're gonna see. I'm gonna run, I'm gonna try, I'm gonna take this love right to ya. All my heart, all the joy. Oh baby, baby please. Rush, rush. Hurry, hurry lover come to me. Rush, rush. I wanna see, I wanna see ya get free with me. Rush, rush. I can feel it, I can feel you all through me. Rush, rush. Ooh, what you do to me. And all I want from you is what you are. And even if you're right next to me, you're still too far away. If I'm not inside your arms, I get dramatic baby. Yes I know. But I need you, I want you, ooh man, I love you so. Ooh, ooh. You're gonna see. I'm gonna run, I'm gonna try, I'm gonna take this love right to ya. All my heart, all the joy. Oh baby, baby please. When you kiss me up and down. Turn my senses all around. Oh baby, oh baby, I don't know. Just how or why but no one else has touched me so deep, so deep. So deep inside. You're gonna see. I'm gonna run. I'm gonna try. I'm gonna take this love right to ya. All my heart, all the joy. Oh baby, baby please. Rush, rush. Hurry, hurry lover come to me. Rush, rush. I wanna see, I wanna see ya get free with me. Rush, rush. I can feel it, I can feel you all through me. Rush, rush. Ooh, what you do to me... speaking of which. I gonna run, Christian. I am. I can't go out drinking with you tonight. Christian. Damn. I thought you were supposed to be my friend.

home back index next howl