who dat? contest.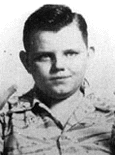 (yo stee. i know
who dat?)
---

last game:

actor titus welliver

first correct answer:
nope
---
trade to black





Turn off the Girls Gone Wild videotape, crack open a 40 of Country Club malt liquor, and unlace your corset, it's time for another edition of Stee Takes A Look At The Trades.

Rowling Says Revealing Book Title Not A Mistake. At a massive book fair in Canada, Harry Potter author J.K. Rowling confirmed she was telling the truth when she casually told a local boy that the heretofore unannounced name of her next book will be "Harry Potter and the Order of the Phoenix." Unfortunately, the young boy was stoned to death earlier that day as a "prophesying warlock."

Actors End Strike Against Ad Business Over Pay. "The negotiators... have reached a tentative agreement on a new three-year contract in the fields of television and radio commercials, effectively ending the strike that began on May 1," announced SAG President William Daniels. "Scab executions begin this Wednesday," he added. The union-sanctioned murders will begin with Emily Patterson, 23, who did a non-union Ross Dress For Less commercial in July, claiming "ignorance" of the strike. A handful of celebrities will face a similar fate. While Elizabeth Hurley will be thrown from London Bridge on Thursday, golfer Tiger Woods will simply have to live out his days with a sand wedge shoved up his ass.

Elton John Changes Tune After 'I Quit' Threat. Temperamental pop star Elton John's career was back in gear again Monday, three days after he announced his retirement. "I'm sorry, I wasn't listening. Who was gonna quit what?" said America.

Actress Lauren Hutton Hurt in Motorcycle Crash. Actress and model Lauren Hutton was in serious condition on Sunday after being hospitalized for injuries she sustained in a motorcycle crash during a group ride with stars like Dennis Hopper and Jeremy Irons. Forgive me for not being terribly sympathetic, but what did she expect speeding down the road inches away from Hopper and Irons. Driving with or anywhere near those two is like going skydiving with Woody Harrelson or tightrope-walking with Joe Cocker.

George Michael Slams 'Pretty' British Pop Industry. Pop superstar George Michael lashed out at Britain's pop industry on Sunday, blaming its obsession with "pretty young things" for the downturn in quality and sales of British music. In a related story, Andrew Ridgley announced Sunday that he was thinking of having one more Pop Tart before his nap. Ridgley was undecided at press time.

Paulina Porizkova, Judd Nelson, Jurgen Prochnow and Larry Drake are starring in "Asylum," an indie thriller to be shot in Bucharest. I'm just saying, considering some rumors around town, that putting Judd Nelson loose in a place like Bucharest might not be such a good idea. That's all.

Radiohead turns in "A" grade concert."...But the English group was never in better form than on Friday, at the very sold-out Greek, as the five members responded with resounding authority to those who wondered whether they could live up to the out-of-control hype surrounding the release of their latest album." I have nothing to say about this. I just included it to brag that I was there, up in the trees above the Greek listening to the concert with 300 other drunken freeloaders. They rocked, people. They rocked. My rock week continues as I see Beck on Tuesday and the Foo Fighters on Wednesday. Don't be too jealous- OK, be jealous.



---
COUCH WATCH:
DAY 36.

STATUS:
STILL ON CURB
...situation extremely dim.
---
The Anna Nicole Smith Happy Song Corner





Iíve used hammers made out of wood. I have played games with pieces and rules. Iíve deciphered tricks at the bar. But now youíre gone, I havenít figured out why. Iíve come up with riddles and jokes about war. Iíve figured out numbers and what theyíre for. Iíve understood feelings, and Iíve understood words. But how could you be taken away? And wherever youíve gone, and wherever we might go. It donít seem fair, today just disappeared. Your lightís reflected now, reflected from afar. We were but stones, your light made us stars. The heavy breath, awakened regrets. Backpages and days alone, that could have been spent. Together, but we were miles apart. Every inch between us becomes light years now. No need to be void, or save up on life. You got to spend it all. And wherever youíve gone, and wherever we might go. It donít seem fair, you seemed to like it here. Your lightís reflected now, reflected from afar. We were but stones, your light made us stars... speaking of which. You know what don't seem fair, y'all? A girl's got herself a few million bucks all of a sudden, and people think they can sue her for backing out of their movies. That just ain't right, y'all. It ain't. I'm trying to recover from my overdose... I mean, my hand injury, and people slap me with lawsuits? I will not let this injustice stand. I will fight this until my... ooh, is that custard?

home back index next howl