trade county, florida

Hey bitches. Lie down on the floor. Grab a six-pack of Zima, some Funyans, and a box of Girl Scout cookies, because it's time once again for Stee Takes A Look At The Trades.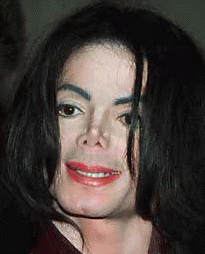 Michael Jackson To Deliver Speech At Oxford University Child Welfare. No it's not just you, he really is now maybe the most unpleasant thing on the planet to look at. But Michael Jackson starting a charity called "Heal The Kids" and speaking out on child welfare issues? Isn't that a bit like Ted Nugent doing a benefit for PETA?
Rapper Eminem's Wife Sues for Divorce, Again. Yeah, Kim is once again suing for divorce, after a suicide attempt, a separation, and a reconciliation. Why does everyone give up on love so easily these days? I mean what, she can't handle his writing songs about killing her, putting her in his trunk, and throwing her to the bottom of the ocean? What's the world coming to when this kind of love can't survive?
Christian Boxing Film May Hook The Faithful. After scoring a sleeper box office success with "The Omega Code," a 1999 Apocalyptic thriller aimed primarily at Christian fundamentalists, TBN Films -- an offshoot of the evangelical Trinity Broadcasting Network -- attempts a mainstream breakthrough with "Carman: The Champion." The best part of this is that TBN has already worked out promotional tie-ins with "prayer groups." Oh man, TBN is totally trying to trick kids into thinking this is a South Park movie with the title. Man, God is fucking ruthless when it comes to marketing his films.
Warner Bros. Picks Up Feature Rights For Movie Based On The Three Stooges Characters. Peter and Bobby Farrelly, the brothers behind "There's Something About Mary," will write and supervise the mayhem. I've always wondered what would happen if Curly gave Moe's semen instead of hair gel. Nyuk Nyuk Nyuk, is right.
Salman Rushdie Attends Hollywood Premiere. It's not often Salman Rushdie is seen much of anywhere but the novelist was at the Century City Cineplex for New Line's "15 Minutes" premiere Thursday. Jesus Christ. How is Salman Rushdie not dead yet? He's about as hard to find as Clifford The Big Red Dog playing hide-and-go-seek.
"Frasier" Future Still Fuzzy. Negotiations are expected to resume Monday over the future of hit sitcom "Frasier," which could leave NBC if the network refuses to pay a higher license fee. Insiders expect a three-year deal to go through, but as of now it is uncertain. Also uncertain is whether the show will ever again make any of its viewers laugh. Outlook not so good.
---
The Robert Downey Jr. Happy Song Corner



Guess there are times when we all need to share a little pain. And ironing out the rough spots is the hardest part when memories remain. And it's times like these when we all need to hear the radio. Cause from the lips of some old singer, we share the troubles we already know. Turn 'em on, turn 'em on. Turn on those sad songs. When all hope is gone. Why don't you tune in and turn them on. They reach into your room, just feel their gentle touch. When all hope is gone. Sad songs say so much. If someone else is suffering enough to write it down. When every single word makes sense. Then it's easier to have those songs around. The kick inside is in the line that finally gets to you. And it feels so good to hurt so bad. And suffer just enough to sing the blues. Sad songs they say, sad songs they say. Sad songs they say, sad songs they say so much... speaking of which. I was in the video store the other night because I wanted to rent a sad movie, so I could feel its gentle touch. Anyway, I'm looking at the shelves and I see this box with me on the cover. It's called Two Girls and a Guy. When did I make that? I don't remember a thing about it! So I rented it and watched it. Yeah, don't remember a moment of making that flick but man, I was pretty good.

home back index next howl