annoyed, satisfied, mocking, relieved, honored

I'm not really going to go into this, but trolling through the trades yet again today, I discovered this little press-release-driven blurb. And it kind of annoyed me.
HOLLYWOOD (Variety) - John Schlesinger, who just wrapped ''The Next Best Thing'' starring Madonna and Rupert Everett, has signed to direct the gay comedy ``Two Gentlemen Sharing.''
Based on the novel by William Corlett, the story takes place in an English village that is turned upside-down by the arrival of a theatrical producer and his free-spirited young boyfriend. The mutual culture shock leads to a number of revelations in the seemingly tranquil town.
Producer Susan Landau likened ``Gentlemen'' to Schlesinger's 1995 BBC cult comedy ``Cold Comfort Farm.'' "This picture is filled with an array of funny, eccentric and touching characters,'' she said.
Schlesinger's directing credits include ``Midnight Cowboy,'' ''Billy Liar,'' ``Sunday Bloody Sunday,'' ``Marathon Man'' and ''The Day of the Locust.'' He was last in movie theaters with 1996's ``Eye for an Eye.''
To me it just smacks of so many other "cute" little films of the exact same nature: "an English village that is turned upside-down by the arrival, blah blah blah" "This picture is filled with an array of funny, eccentric and touching blah blah blah." I don't know man, maybe it's just me, but since I actually paid money to see The Englishman Who Went Up A Hill And Came Down A Mountain and The Matchmaker, I feel as though I have a right to complain. Though I did like Cold Comfort Farm.
Ooh, and I just have to print a bit of Variety's review of Inspector Gadget:
Disney bombs with ``Gadget''

HOUSTON (Variety) - A new standard for wretched excess is established by ``Inspector Gadget,'' a joyless and charmless disaster in which state-of-the-art special effects are squandered on pain-in-the-backside folly.
Under the frantic direction of first-time feature helmer David Kellogg, film careens from scene to scene like a Ritalin-deprived problem child. The acrid stench of desperation permeates the enterprise, as actors struggle to convince the audience -- and quite possibly themselves -- that louder and broader somehow equal funnier.

Broderick makes a game effort but overdoes the gee-whiz ingenuousness. Everett is disappointingly pedestrian as the villain of the piece, but at least he evinces restraint as he goes through the motions. Other members of the cast pop their eyes, flutter their hands and make silly faces, all in the vain hope of wringing laughs from Kerry Ehrin and Zak Penn's pathetically unfunny script.

Even with an interminable closing-credits crawl, ``Inspector Gadget'' clocks in at 77 minutes, making it one of this decade's shortest major studio releases. Unfortunately, some pictures can never really be short enough.

Honestly, what's the ratio of success vs. failure on these television show adaptations at this point? I mean, c'mon people.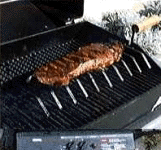 Last night I went to Frank's house to watch footage. His roommate Kida, who was our DP and a very good one at that, has taken up a new and very odd obsession: barbecues. Seriously. He works as a BBQ salesman and owns NINE barbecues himself. Last night he grilled for us, making salmon and sweet potatoes, going so far as to buy cedar boards upon which to cook each individual filet. It was great but… dude. That's a bit much. But as we enjoyed our cedar-roasted salmon, we continued to peruse the footage. As an actor I really dislike watching myself on camera. Seriously. I think I look incredibly stupid. I have these big ol' hands and feet and a goofy smile and I think I just look kinda stupid. But for some reason watching this footage doesn't bother me at all. I kind of like it. Perhaps it's the quality of the tape. Perhaps I've become immune. But more likely it's simply because this is my project start to fnish and to blush and act demure and embarrassed would just be a monstrous waste of time.
And the Andy Barth jokes continue… (Barth is our friend and the laziest man in the world). Last night Todd calls me with the following message, "Stee, you and Andy are very similar, but whereas you're living La Vida Loca, Andy's living La Vida Sofa." And then today I was wondering what Barth's email address is, and someone suggested: andybarth@couch.beer.home
---
This is where I let Larry King take over my body for a few minutes.
I received one of the best phone calls I've gotten in a long time today. It was from arguably my best friend Shana who's a trapezist with Cirque Du Soleil. She called from Australia where she's been on tour for ages. I wasn't home at the time but the minute I figure out the 16 ½ hour time difference, I'll call her back…Today I received a very kind letter from the talented Ms. Huntzinger inviting me to join her webring, to which many of my favorite journalers belong. So I shall soon humbly take ownership of my own island – I just hope there are plenty of coconuts and lusty native women on it...