things I like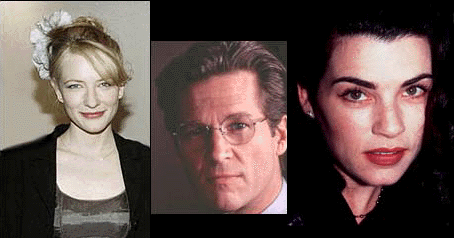 Currently: I wait. I wait for my editor to get the first assembly together, when he's not cutting his precious Winona Ryder film (like Winona Ryder is so much more important than me, sheesh). Todd and I slog through our first draft of what is currently called (Untitled Tom Hanks Project – the title is quite funny to us), trying to finish before he runs off to Toronto to shoot "anywhere from 2 episodes to the entire season, depending" of Dick Wolf's new fall TV drama (like being in a prime time show is so much more important than sitting in my living room drinking beers and writing, sheesh again). And then there's Frank's will-this-ever-actually-happen film that now has to wait for my co-star John to shoot A Perfect Storm with George Clooney (like Clooney is so much more- alright, Clooney empirically is indeed much more important than I am. It's like provable: the George Clooney Theorem.)
GC – STEE = +X
STEE – GC = -X
Most likely you can plug yourself into the "STEE" integer, and the theorem would also prove true. Sorry to tell you folks, but I think the sooner you realize this fact, the more pleasant life will be for you: Clooney is much more important than you. "Wait, to my baby girl, I am much more important than Clooney." Nope. Sorry. It seems as if that would be true, but even to your baby girl, Clooney wins.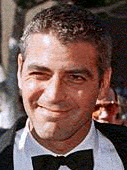 So while I wait for many things, and much feels boring and stagnant right now, I turn away from cynicism to the good.

A couple months ago in this space, I somewhat pretentiously said that the four most important things in life are: love, sex, art, and laughter. So let's check in see and what is making me happy in those four corners of the world:

Love. Girlfriend. Nice lady. We talk and cook dinner and see movies and drive around. We talk about acting. We smooch. We watch The Real World. The other night we watched an entire television show about Brittney Spears. We drank wine and watched Brittney Spears lip-sync, grab her suspiciously large breasts, and throw her leg over her head. She recently got a haircut (M. not Brittney). Looks fantastic. My friend Robb just left town, but there are a few good ones still around. I've been getting in touch with some friends I'd lost touch with (apparently a very easy thing to do in LA). Having drinks with the lovely and fair Nina tonight. My mom and sister are both doing well. Nothing but love for you baby.

Sex. See "Girlfriend". (Ooh, she did recently say that she'd consider having a foursome: but only with me, Cate Blanchett, and Juliana Margulies. OK, so my chances of ever having a foursome are about 1 to 1,000,000,000 – but oh how I cling to that 1!)

Art. I haven't seen many plays lately (bad Stee, bad!), but I have seen some pretty-to-very good movies. Run Lola Run is hyperkenetic and German and sexy and fun, South Park: Bigger, Longer, & Uncut is one of the best movies of the year. No shit. Both a parody of musicals and a damn fine musical in its own right, it features real sharp and disarmingly smart writing, non-stop jokes, and a helluv a score by Marc Shaiman to boot (especially considering the shameful fact that he worked on Snatch Adams). Naturally, the quietly brilliant I'm Losing You. Arlington Road was not as good as I had hoped – but it's still a well-paced, tight thriller with some great scenes and uniformly good acting. Plus you got the ever-wonderful Jeff Bridges.

(Jeff Bridges, like Scientology but for very different reasons, is a subject that I try to avoid because I either have to brush over it, or talk for 3 hours straight. No in between. I will, however, mention something I just discovered today: Jeff Bridges was a website – www.jeffbridges.com. And it is absolutely beautiful and unassuming. It features little drawings and animation by him. As well as being an actor and family man, he's a musician, published photographer, and a painter. Go check out his cute little site, and/or read this recent Mr. Showbiz interview.)

I've been listening to Ben Folds Five a lot and the Beasties and rediscovering my old Led Zeppelin. Jude has a cool new album and Elvis Costello continues to graciously and without being asked provide the soundtrack to my life. Since I don't get HBO, I don't get to see much good TV.

Laughter. There's a series of jokes going around about our good friend Andy Barth (nicknamed Mr. Fantastic – I'll tell you later), because he is the laziest human being on the planet. There was a whole riff about how much Andy, if he were in prison, would like solitary confinement, "You mean I don't have to go on work detail? I don't have to go exercise in the yard? No showering? Sign me up!" It would be The Barthshack Redemption. And I just obtained a full-sized standing Tigger statue from work that I'm just itching to do mean things to. I'm thinking of leaving it on friends' lawns in the middle of the night, this Tigger then going from house to house, uninvited. And I'm warming up to Jon Stewart now that he called himself "box office poison" on his show last night. Oh, and I just rediscovered the King Missle song "Martin Scorcese". If you've not heard it, find it. Funny, and I know from funny.
---
This is where I let Larry King take over my body for a few minutes.
Now that Calista Flockhart, Daryl Hannah, and Michael Bergin have weighed in on the JFK Jr. tragedy, I feel much better...speaking of which, a very clever, if mean, article came out about John-John in the genius onion yesterday...tonight my friend Nina shocked even me by saying this about the talented but poor judge of projects Alec Baldwin: "I'd let him come on my face."...and mad love to Pamie. Dogs love her cause she's crazy sniffable...