who dat? contest.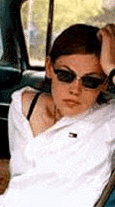 (yo stee. i know
who dat?)
---

last game:

tv's "big brother"'s maybe kicked-out stripper
jordan

first correct answer:
---
left column not sure anyone understand anymore.

ok, it is you





So I did it. I broke up with AT&T Wireless today. Yeah, they were NOT happy about it. And I tricked them. I didn't go to the, "Press 4 to break up with us" selection - I just went to the general Speak To An Operator selection, and I did it. Breaking up with someone is terribly difficult. No one likes to be rejected. Companies like it less than people. And this woman did not go without a fight...

I told her that I was calling to discontinue service and she was quiet for a minute, and then she said, in a small voice, "Do you mind telling me why you're unhappy with our service?" And that's what I was waiting for. So I vented. It was as if I was asked by someone I was breaking up with to list the litany of complaints, large or tiny. And the beauty is that in this case, she could have no complaints in return. I'd done nothing to her. I'd paid the bills. That's really all she asks in return. But I went off. And when I was done, she was like, "Um... would it make any difference if I adjusted your account and tried to get you a free phone and why don't you give me another shot." I explained that it's just too late as I have already moved on. She was silent and then apologized. I, in turn, assured her that it wasn't about her, it was about me, and that I was leaving with no bad feelings about her. I wished her well, asking for some sort of assurance that she formally acknowledged that This Was It and that it was over between us, but she couldn't offer that. I just had to trust her that she'd let me go. I'm not so sure if that was a good idea, but I was starting to feel guilty. Frankly, I was also a little scared that Sprint PCS was going to call at any moment and ask, "So, who were you just talking to?" And I didn't want to have to start off a relationship with a lie, so I was glad to get off the phone with AT&T Wireless. I'm going to miss her, but I trust the new one will satisfy all my needs and be up front and honest with me when she needs to make changes to our relationship. Unlike AT&T Wireless. I hope I can expect at least that much.

So a lot of people responded to my theories about the free smokes I got the other night. (One woman was very angry at me for being so cynical and questioning such a nice thing. Okay...) But a reader Pat had my favorite theory:

"He could have had a bad fight with his wife that day about how much she hates being poor and how can she respect her husband when all he is is a gas station attendant and how she wants him to get a better job and how her mother was right and and and....

He can't sleep, he's worried his wife will leave him (though ugly and a constant nag -- she is all he has). He KNOWS he has a bad job but law and bureaucracy keeps him from utilizing his skills as a dentist here in the United States. He can't fathom going back to school to retrain for another profession at his age even if he had the money and HIS ENTIRE LIFE is closing in around him. The only time he can even really think or sleep or dream is while he's safely cocooned behind that bullet proof glass under those weird fluorescent lights in those rare moments of peace when assholes aren't banging on the glass yelling at him thinking he can't hear them through the speaker.

It's a moment where all things can come crashing down when along comes one guy who doesn't bang, has an honest face, speaks softly and respectfully and simply wants a pack of smokes. On that one night when he was on the verge of losing it; on the verge of doing something rash -- that one instance where he's decided that "if the next person I see yells at me I will burn this place to the ground" -- you renewed his faith in humanity for one more night. That may be worth a pack of smokes."


---
The Larry King Happy Song Corner





I met someone at the dog show. She was holding my left arm. But everyone was acting normal, so I tried to look nonchalant. We both said, "I really love you." The Shriners loaned us cars. We raced up and down the sidewalk twenty thousand million times. Why did they send her over anyone else? How should I react? These things happen to other people. They don't happen at all, in fact. When you're following an angel, does it mean you have to throw your body off a building? Somewhere they're meeting on a pinhead, calling you an angel, calling you the nicest things. I heard they had a space program, when they sing you can't hear, there's no air. Sometimes I think I kind of like that and other times I think I'm already there. Gonna ask for my admission. Gonna speak to the man in charge. The secretary says he's on another line, can I hold for a long, long time? I found out she's an angel. I don't think she knows I know. I'm worried that something might happen to me if anyone ever finds out. Why, why did they send her over anyone else? How should I react? These things happen to other people. They don't happen at all. When you're following an angel does it mean you have to throw your body off a building? Somewhere they're meeting on a pinhead, calling you an angel, calling you the nicest things. I heard they had a space program, when they sing you can't hear, there's no air. Sometimes I think I kind of like that and other times I think I'm already there. When you're following an angel does it mean you have to throw your body off a building? Somewhere they're meeting on a pinhead, calling you an angel, calling you the nicest things... speaking of which. I follow an angel... in Cincinnati, on WKWO. My show follows a syndicated show by one lovely lady named Starr Jones. I would throw my aged, aching body off a building for her anytime.


home back index next howl