who dat? contest.

(yo stee. i know
who dat?)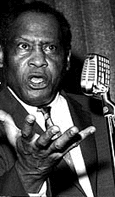 paul robeson. actor. singer. activist.

first correct answer:
I'm ashamed of you all. Seriously. Read a little.
blame it on the trades
Time to look at some doings out in this here den of sin called Hollywood. See what those wacky folk are up to...

That's right kids. Once again: Stee looks at the Trades.
Famed Magician Doug Henning Dies at 52. There are just way too many jokes to be made when magicians die. Sort of like the idea of phone "psychics" having to ask for your credit card number. (You mean you don't already know it?) Well, not only are you in trouble if you call yourself a magician because of the fact that most magicians are fucking weird, but you're almost tempting fate by claiming to be able to do magic shit. "Dude. You made New Jersey disappear, why can't you do the same for that tumor?"
Hercules, the grizzly bear who once wrestled with James Bond, has died at the age of 25. There's nothing funny about a bear dying of back problems, but this biographical tidbit I find pretty fucking ludicrous: "But it was his 1980 escape while filming a Kleenex commercial on the Outer Hebrides islands off Scotland, that turned him into an international superstar. After a massive search, he was eventually found three weeks later. He shed 280 pounds in weight and was given a humanitarian award from the Animals in America organization for 'failing to harm any wildlife while starving.'" They gave a bear an award for being too fucking coddled and humanized to make a single kill. That's like giving a deer on Long Island a prize for most SUV's he's caused to crash. Well... not exactly, but you know what I mean.
'Puffy' Combs Pleads Not Guilty to Gun Charge. Afterwards, he said, "I can't do all that I do and be running around and throwing guns out windows." That's like when Nicole Kidman, defending Tom against rumors that he's gay, said, "Tom's so busy. When would he find the time?" Uh, how long does it really take to drop a gun out of a window? About as long as it takes to bend a gaffer over your trailer's mini-dinette. Puffy actually also went on to deny making his last album. "How's a bidnessman like myself gonna have the time to make such a crazy-wack album? That's just foolish talk, y'all."
Movie Director Spielberg Has Kidney Removed. The director's kidney was removed after doctors found an "irregularity" on it; presumably cancerous in nature. "A complete recovery is promised, and no follow-up treatment is necessary. He's home now resting comfortably," said a spokesman for the hospital. "He should be back at work shamelessly manipulating movie audiences any day now."
Brit rockers Bush offer Jewish prayer at Austrian show. "Beruch-odoi. Sedum-minech-nosh. Let us not suck so badly. Fehruh-siddoch."
Madonna Releases New 'American Pie'. You know, the other day I was driving and briefly flipped stations on the radio and thought I recognized Madonna's voice and I thought I heard it singing the lyrics to American Pie, but I thought I had to be hearing things because not even Madonna would have the fucking gaul to remake American Pie. I was wrong. I was so horribly wrong.
Pacino eyes complex role -- Oedipus. The sad thing is that the person who wrote this headline mostly likely did not intend the pun. I just want to know what the Hoo-Wah Factor of the climax is going to be. Holy Mackerel. And if someone Pacino's age is sleeping with his mother, what actress is going to play Jocasta? Katherine Hepburn? Or maybe Estelle Getty in full-on Golden Girls make-up? And there could be some funny lines about having sex with your mother. "Every time I try to get out, she PULLS me back in!!!" Hoo-Wah indeed.


---
The Corin "Corky" Nemec Happy Song Corner





Hey, I'm your life, I'm the one who takes you there. Hey, I'm your life, I'm the one who cares. They, they betray, I'm your only true friend now. They, they'll betray. I'm forever there. I'm your dream, make you real. I'm your eyes when you must steal. I'm your pain when you can't feel. Sad But True. I'm your dream, mind astray. I'm your eyes while you're away. I'm your pain while you repay. You know it's Sad But True. YOU! You're my mask, you're my cover, my shelter. You, you're my mask, you're the one who's blamed. Do, do my work, do my dirty work, scapegoat. Do, do my deeds, for you're the one who's shamed. I'm your dream, make you real. I'm your eyes when you must steal. I'm your pain when you can't feel. Sad But True. I'm your dream, mind astray. I'm your eyes while you're away. I'm your pain while you repay. You know it's sad but true... speaking of which. There are 19 actors in The Screen Actors Guild named Corky, and do you know how many of them regularly get hired? One. Me. One Corky. I smell a conspiracy. And not only that, my name isn't even really Corky. It's Corin. I could have run away from the Corky, man. I could have. But no. Don't run from the Corky. Do not run from the Corky. I put the Corky right in there as part of my name. You don't think "Corky" haunted me for years? It sure did. And then when that show with the cute little tard on it came out, that was nearly the end. But I stuck to my Corky guns. And has it hurt my career? I'm sorry to say, I think so. That right there my friend is sad but true.


home back index next howl