what career


This from the onion today says it all: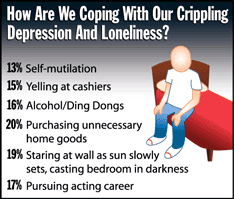 I really have no call to be tired, and yet I am. No show yesterday. Only 3 left. Ma mere is making the trip down with a cousin to see it. This is Shakespeare and she's quite the literate one, so she'll like it. About the last show of mine she saw, which I wrote and which was about many things, such as Post Cold-War Russia, Sam Shepard, the musical Cats, and the sitcom Step by Step, she cryptically said, "It was very difficult."
By the way, I haven't had a smoke in 5 days. Don't know if I'm quitting. I think I'm just trying it on for size. I can't breathe but other than that I'm OK.
Let's take a brief "career" look, shall we?
ACTING:
Stee is nowhere. I'm finishing a great run of Twelfth Night. My commercial agency is losing all clout in town and thus I get few auditions lately. Don't have a theatrical agent. In all fairness, haven't been trying. People seem too really like my performance in my short. How to make that work for me, I don't know.
Upcoming: If Frank's money guys come through I'll be shooting a great feature in the Spring getting paid real money with real actors and a real crew and real chances of being really seen. My comedy group Film Pigs will probably do another show in the Spring. Doing another dreaded casting director workshop (horrible, but I feel I should do something) in January. Gonna be in a short M. is producing sometime soon.
I should be getting new headshots. I should be getting together a voice-over reel. I should be begging everyone I know to recommend me to their agencies. I feel lackadaisical about acting right now. Career wise. More into writing right now. I can finally admit that to myself. For now. For now. I said, for now.
WRITING
I am confused as fuck what to do right now about this script I've been babbling about forever - (not either of the 2 that I'm currently writing, those are en route and going reasonably well) the one that made it to the semis of the Nichol and went out to many companies because of that and was rejected by many and liked by many and truly loved by a few – that one.
It has made me some fans at production companies, some good important fans who are still trying to push it on the REALLY important people who hold the purse-strings. Some agents and managers still haven't read it. Some producers are casually pimping it around trying to get it made with themselves attached. Fine. Whatever.
The latest developments are thus:
I sent the short film to a few who currently have the script. No response.
A senior VP at one of the big 3 agencies called me having read it during judging and loved it but has a full client roster so he pimped it to two younger female agents. He just wrote me saying they didn't respond the same way to the script and to "keep the faith".
A friend is pimping me hardcore to both her agent and manager.
I just got a call from a producer who loves my writing but doesn't like the story so is going to make another movie. I didn't even know she was just going to BAM make a movie. She sounds like a rich lady. Foreign. Russian maybe. She's weird. Very weird. She wants to work with me in the future and recommend me to the agency she's with. But "not yet".
And now I have only a day or two to decide if I want to take the thing off the market altogether and work on it at the behest and notes of this former big 3 agent/VP of Production at one of the studios who is "between jobs" in what would basically be a dreaded "free option" deal. I know, I know. Don't do it. Everyone says that. But there are upsides here. (Update: so she just called me. – I need a name for her. Shark. I'll call her The Shark – The Shark calls to tell me she just talked to a guy who's name made me laugh it's so Spielbergian in terms of Power Level about my script. On first read he's not "quite getting it" but needs to take a closer look at the pages she sent him. What am I doing?)
If you have advice, I'd be happy to hear it. Especially if you have some particular insight. I am so alone in this world here it's not even funny.
Elsewhere…
…Has anyone seen this new Britney Spears without implants named Mandy Moore? Her video is so fucking funny. The best part is when she and her ho friends line up for the obligatory group dance sequence and… they don't actually dance!!! The camera does a few tricks and the girls like shake their hips and flail their arms about, but obviously this girl can't dance so they just fake it. And then on TRL people request the song saying "she's so pretty and is such a good dancer". Slight of hand, my people. Abracadabra!
Finally…
…Life is good. Career is frustrating. I want a dog. I'm having lunch tomorrow with my former mentor who has just been diagnosed with serious chronic depression.
I think I'm going to bail for a while and road trip across the country. Maybe in the Spring. Do you want to grab a beer?
---
The Larry King Happy Song Corner






Larry is a bit confused today. Happy and content, but a bit confused. It should clear soon.