the andy dick memorial bust pool
is moving along

keep sending your votes in

directions in this entry




maybe the world is blind

I watched a lot of TV when I was little. A lot. I mean, I had a life, I did. I stayed at my schoolyard until dark every day riding my bike, playing football, strike-out, kickball, baseball, try-to-hit-each-other-with-the-red-rubber-ball-and-make-each-other-cry ball. I took piano lessons. I took trumpet lessons. I was in Indian Guides. I did my homework. I fought with my sister and collected baseball cards with the tenacity of a crack addict and was a motherfucking architect at Legos and had an ass-kicking Hot Wheels Race Track, but still, somehow I managed to amass endless numbers of hours in front of the TV.
Sure, I watched the usual shows. You're A-Teams, your Dukes, your Facts of Life, Good Times, The Jeffersons, Growing Pains, Brady Bunch, all the cartoons, Charlie's Angels, The Love Boat, Fantasy Island. The typical shows.
But there were some other shows I used to watch that you don't hear that much about. Shows that once in a blue moon I'll remember for some reason. Shows that were god awful, and I realize now that by watching these horrid things I somehow developed, as an anti-reaction, an early sense of taste, class, and irony.
Some of these shows include Silver Spoons, Charles In Charge, ALF, Gimme A Break, Kate and Allie, Mr. Belvedere, Sidney, Square Pegs, Webster.
And for some reason I've been thinking about three of these shows recently:

Punky Brewster.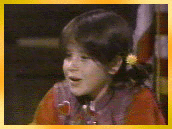 Punky was a little girl with a puppy named Brandon. Punky was abandoned outside a supermarket. Some old guy took her in. The old guy was George Gaynes, a fairly well-respected actor. He wore a lot of cardigans, spoke in a proper accent and loved to say, "Oh Punky!". I don't know why I watched Punky. But watching Punky made me happy. Punky was a very stupid show. Punky is the second best TV name ever. The first best is Tootie. (At this point I am tempted to segue into talking about Blair Warner's fucked-up cousin Gery Jewel, but I'll refrain.) Punky herself grew up to have massive breasts.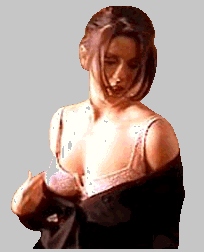 One day Punky, Soleil Moon Frye, had her breasts reduced because they hurt her back. Punky was on Friends last season, as Joey's abusive girlfriend. Soleil's brother is named Meeno Peluce. Their parents must have been very very high all the time.
Double Trouble.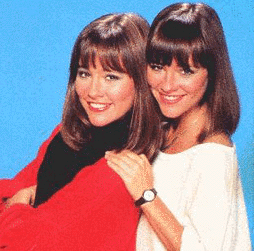 This was a show about two twins. Like the Patty Duke show, with two differences, says a fan page, "in Double Trouble real-life twins played the leading roles (while Patty Duke had played both roles herself), and The Patty Duke Show lasted three times longer." Double Trouble, or DT as the fans called it (OK, I just made that up), was about twins living in Des Moines. One was sensible, one was a drunken slut. In the second season they ditched the older cast members (including Home Improvement's Patricia Richardson!) and moved the twins to New York where they both became whores. Too bad the show was cancelled before the whore episodes could air. The twins are sisters to Katey Sagal, from Married With Children. The reason I liked this show was because I wanted to have sex with both of the twins at the same time.
Small Wonder.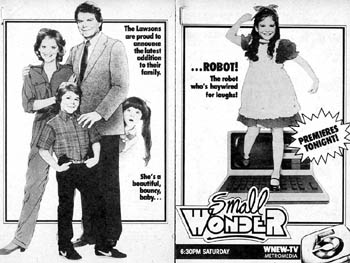 I don't like child robots, and this is the show that made that decision for me. SW, as the fans call it, was about a little girl named Vici who came to live with a couple (were all 80's sitcoms about some strange kid or alien or alien puppet who comes to live with a family?) and their fat gay 8 year-old son. The twist: she's a robot. There was an obnoxious little red-haired girl who lived next door. She sucked. The way that the wonderful Tiffany Brissette let you know that Vici was a robot (besides the fact that her back opened up to reveal a control panel) was that she talked in a clipped monotone and stared straight ahead. I liked watching Small Wonder because even at 10 years old it left me confused and disoriented. Sort of like pot would a couple years later.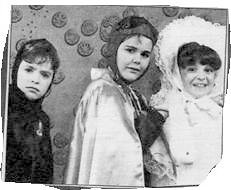 But the best reason for liking Small Wonder is the fans. I came across a guest book where you can leave messages for the now Jesus-freak Tiffany Brissette. Here's a sampling:

*Dear Tiffany,
Hi, Tiffany. Please, forgive me for making such a fool of myself on my first letter that I e-mailed to you through the internet. I was so nervous about writing to you. I wanted to write to you again, because, I already know everything about you. So, I would love to tell you a few things about myself. I know that you enjoy concert piano. Well, guess what? So do I. I mean--I like John Tesh. He's a teriffic pianist. You are, too, even better. I also know that you enjoy swimming, & reading. I do, too. I mean--novels based on TV shows such as "Full House", "Sister, Sister", "Party of Five", "The Secret World of AlexMack", & "The X-Files". Of course, I read my bible as well. I also know that you also enjoy skiing, snorkeling, skating, & horseback riding. I do, too. But, there's only 1 problem. I don't know how to skate, ski, snorkel, nor ride a horse. I hope that you're not angry at me. If so, I'm really sorry. I also think that you're an outstanding gymnast. I mean--you're like Kerri Strug, Shannon Miller, &Dominique Moceanu in 1. I would give you a perfect 10 every time. Oh, by the way, I saw a picture of what you look like now in your biography. So, I'll tell you what I look like. I'm an African-American. I'm 5 feet, 10 inches tall. I have black hair, & brown eyes. I'm a student at the University of Alabama at Birmingham. I'm majoring in Acting, & Writing. My other favorite hobbies are the following: Writing, Watching TV, Listening to music, Collecting, & listening to TV theme songs including the "Small Wonder" theme, Creating things, Going on the internet, & walking. By the way, Tiffany, I've enjoyed your show so very much. I've decided to create a new board game about "Small Wonder". I'll tell you about it in my next letter. The game that I've been working on is now finished. I'll give you a clue. The answer is: "It's "Monopoly", "Sorry", & "The Price Is Right" in 1."Well, Tiffany, that's it from me for now. But, don't worry. I promise that I'll write to you again. Don't forget write to me. My e-mail address is< >. Until next time, as talk show host Jerry Springer always says: "Take care of yourself, & each other." I love you, Tiffany. Bye.Sincerely, Rick (Age 22 1/4)
P.S.
T--is for The wonderful, multitalented Tiffany Brissette.
I--is for I really adore your beautiful voice, & sexy looks.
F--is for Funtastic, funny, fabulous, & fun to be with.
F--is for For the love, cool, & affection in you.
A--is for Are you single? If so, would you choose me to be your steady boyfriend?
N--is for No one has the right to hurt you in any way at all.
Y--is for You're so pretty, & very special to me. I love you.
*When Small Wonder first came on the air, for some odd reason my entire family was around the television to watch it. If I remember, it debute the same week as "Manimal". My brother, father and I all loved "Manimal" and thought it would beon forever. My grandmother said she thought it was spooky. It was cancelled within six weeks. When we all watched Small Wonder, my father, brother, and I did not forsee a very long life for the show. My grandmother said, "I think the little girl's cute." And that was that; it surpassed Manimal by about four years. Since that time, may grandmother has passed away, and we have no idea which shows are going to be hits or not.
*To Tiffany Brissette. Do you remember Migel Navidad in Diriamba Nicaragua? I am Luba his sister. Migel met you on the mercy ship in August in 1998. You had supper with us in the square where the wall fell down. Every one said you were excellent missionary and lady of peace. Every one loved your care and compassion and laugh. We were all sad to see you leave so short. We will be in San Diego next Easter. We hope to see Solana Beach and say hello to you there too again. I hope you are now youth ministry director there too. No one is better to be one. May God In All His Mercies Watch Over You Tiffany Brissette. In Our Prayers. Luba Navidad
*hello tiffany , i'm from bolivia
*I loved your show! It was a long time ago but I remember it very fondly. I'm sorry you quit acting. You were very talented and very beautiful. You would've been a teen queen easy. I'm sorry we never got to to see you growing up. It's always the brat actors that get ahead it looks! I think you could have been the next Kelly Martin in talent. Always good luck in whatever you're into now.C.B.
(The next Kelly Martin! OK now, that's pushing it. I decided to write Tiffany a letter too.)

*Dear Tiffany,
You scared me as a child. You and your monotone and your fat gay brother. To this day I blame you for making me afraid of child robots. You and that no good D.A.R.Y.L.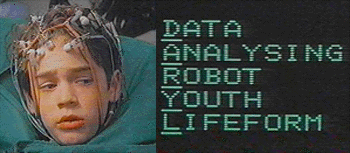 Good luck with the God thing. Hope it works out for you.
-stee
ps: Please send me an autographed picture. Thanx!
Oh man, I just found a Small Wonder site run by a Transgender Wiccan Reverend who says, "The magic of Vicki the Robot kept my sanity during a time when peer pressure was hammering down on me." Me too, dude. Me too.
---
The Larry King Happy Song Corner






Larry is off rioting in Seattle.