not trades away


Yes motherfuckers. It's that time again. So grab a stick of gum, some angel dust, and put your beautifully tanned and toned legs up while: stee takes a look at the trades.

With 422,000 sold last week, 'N Sync Stays on Top. That's funny, I'd heard that Justin was a Bottom.

ABC has confirmed that this season will indeed be the last for long-running teen sitcom "Boy Meets World." I'm sorry, what the hell is this Boy Meets World thing you speak of? In all seriousness, this reminds me of the time I heard that Falcon Crest was set to air its last episode, and I seriously thought it had ended 10 years prior. Same with Step By Step, although I still do miss Patrick Duffy and Suzanne Sommers' wacky antics as... um... I'm sorry, what the fuck was the premise of that show?

Barbie Running for President. The White House Project, a nonprofit, nonpartisan group that promotes women candidates, said it has teamed up with Mattel Inc. to market a "Barbie for President" doll, which will hit stores May 1. I agree with Beth, I miss the days that Barbie was just, well, a bitch-whore slut.

Ryan Eyes Stone's 'Borders'. Meg Ryan will reportedly meet with director Oliver Stone Wednesday to discuss starring with Kevin Costner in "Beyond Borders," a romance revolving around international relief workers. I have nothing to say about this, but it gives me an excuse to show y'all this photo: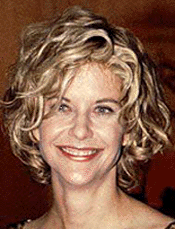 Doesn't she look insane? Seriously. She's turning frightening. Now we know what's on the other side of that tenuous state of being, called Perky.
Madonna Denies Knowing Sex of Unborn Child. I'll give you one guess which country's newspapers were reporting that she knew the sex of the child? Of course. England. Don't they have anything better to do? Can't they go brush their teeth instead of constantly reporting on Mick Jagger or Madonna or George Michael? Who cares? Seriously. Go floss or something.
Wow, there's not really a whole lot going on today in the trades. But in the meantime, take a look at Meg Ryan again. I think she broke something a few movies ago.

---
ONE YEAR AGO TODAY: Ate some ice cream. Licked the spoon. Put it back in the freezer. Watched an old M*A*S*H epsiode. Not so funny anymore.


---
The Corin "Corky" Nemec Happy Song Corner





I bet you fall in bed too easily with the beautiful girls who are shyly brave and you sell yourself as a man to save but all the money in the world is not enough. I bet you've long since passed understanding what it takes to be satisfied. You're like a vine that keeps running higher but all the money in the world is not enough. And all the bridges blown away keep floating up. It's cooooold, and rough and I kept standing 6'1" instead of 5'2" and I love my life and I hated you. It's cooooold, out there and rough and I kept standing 6'1" instead of 5'2" and I love my life and I hated you... speaking of which. I fall in bed too easily with women who respect me for me, and not for the "fame thing". The minute a woman says, "Oh, so you're an actor?" with genuine surprise, I'll fall for them. Unfortunely, that's been happening more and more lately. Huh.


home back index next howl